November 9, 2012
Union Program Council and Union graphics recognized at regional conference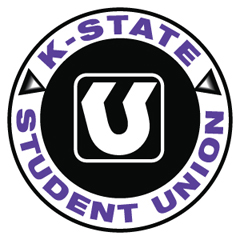 The K-State Student Union graphics office and Union Program Council were recently recognized for outstanding work at the Association of College Unions International Region 11 Conference in Stillwater, Okla., on Nov. 3.
Jeremy Himmelberg, Union student designer and senior in fine arts, won second and third place in the three or more color poster student division for his SVET and Dr. Seahorse events designs. Steven Martinez, Union lead designer, won second place in the promotional campaign professional division for his 54th Union Governing Board/Union Program Council banquet program and invitation design.
Union Program Council's 2011-2012 films committee was awarded the Bernard J. Pitts Role of the College Union Award. The award, named in honor of former K-State Student Union executive director Bernard Pitts, acknowledges an outstanding program or service as embodied by Association of College Unions International's Role of the college union statement.
The association considers the union as the community center of the college, serving students, faculty, staff, alumni and guests. The council's spring semester YouTube Film Festival and Oscars program was nominated and selected for the award. Any program or service sponsored or supported by a member institution in Region 11 that is ongoing or has occurred during the past academic year was eligible for nomination.
The award was given to recognize the efforts of the 2011-2012 Union Program Council films committee co-chairs Ashleigh Herd, senior in chemical engineering, and Ross Jensby, junior in political science, and adviser Megan Canfield, Kansas State University master's graduate of counseling and student development, along with other Union Program Council committee members and volunteers involved in the YouTube Film Festival and Oscars celebration.
Accepting the award were Canfield and current films committee co-chair Elizabeth Davidson, junior in art education. Others attending the conference included Beth Bailey, Union assistant director and Union Program Council program manager; Caelee Gibbs, Union Program Council graduate adviser; Audrey Taggart-Kagdis, Union assistant director, marketing, public relations and development; and Jacob Ternes, Union Program Council graduate adviser.
To learn more about Association of College Unions International Region 11, visit acuiregion11.org. For more information and a complete list of all Union Program Council activities, visit k-state.edu/upc or call the Union Program Council office at 785-532-6571.