November 9, 2012
Reading by Native American poet Janice Gould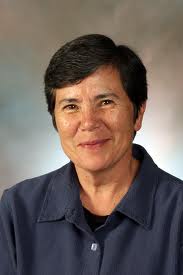 On Tuesday, Nov. 13, poet Janice Gould will read from her work. The reading will take place at 4 p.m. in the K-State Student Union's Little Theatre.
Gould is a Koyangk'auwi — Concow — Maidu writer and scholar, and of mixed European and Concow descent. Her poetry blends reflections on identity, gender, sexuality and landscape, making connections between past and present, between personal experience and social expectations.
"Janice Gould's work is groundbreaking," said Lisa Tatonetti, associate professor of English and specialist in Native American studies. "One of the foremost Two-spirit poets of our time, Gould's poems use heartbreakingly beautiful language to talk about the gritty realities of life."
Gould's books of poetry include "Doubters and Dreamers," "Beneath My Heart," "Earthquake Weather" and "Alphabet," an artbook/chapbook. She is also the co-editor of "Speak to Me Words: Essays on Contemporary American Indian Poetry." She has received awards for her writing from the National Endowment for the Arts and the Astraea Foundation.
Gould graduated from University of California, Berkeley, earning a bachelor's degrees in linguistics and a master's in English. Her doctorate in English was completed at the University of New Mexico. She has worked as a professor in English, creative writing, Native American studies, and women's studies. She also served a three-year term as the Hallie Ford chair in creative writing at Willamette University. Gould now teaches at the University of Colorado at Colorado Springs.
The reading is sponsored by the department of English, Creative Writing Enthusiasts, LGBT Resource Center and the department of women's studies. For more information, visit http://www.k-state.edu/english or contact english@k-state.edu.