October 31, 2019
Campus leaders invited to 2019 Leadership Appreciation Reception
Submitted by Michelle Anderson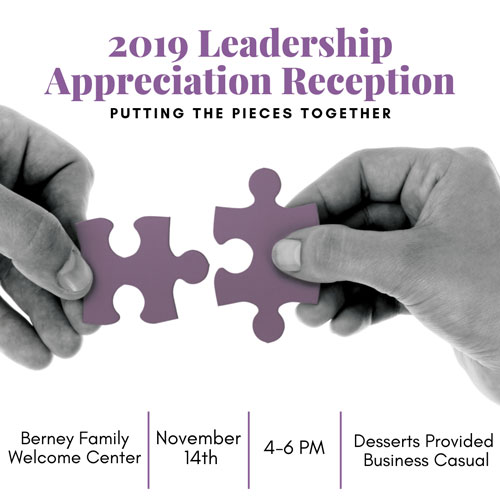 The 2019 Leadership Appreciation Reception will take place from 4-6 p.m. Thursday, Nov. 14, at the Berney Family Welcome Center.
Organization presidents, advisors and one additional member are invited to attend.
The event honors and recognizes the accomplishments of student leaders from across campus. Winners and nominees from the 2019 Leadership Awards will also be announced.
The theme of the event is "Putting the Pieces Together" and keynote speaker Thomas Lane, vice president for student life and dean of students, will deliver remarks. Dessert will be served.
Please RSVP online for the event.
The event is co-hosted by Blue Key Senior Honorary and the Center for Student Involvement.