October 10, 2019
Anime double feature Oct. 11 and 12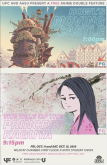 The Union Program Council and the Asian American Student Union will host a free showing of two Studio Ghibli films at 7 p.m. Friday, Oct. 11 and Saturday, Oct. 12 in Wildcat Chamber on the first floor of the K-State Student Union. The first film, "Howl's Moving Castle," begins at 7 p.m. and will be followed by "The Tale of the Princess Kaguya" at 9:15 p.m.
"Howl's Moving Castle" follows the story of Sophie, a young woman cursed by a witch to age prematurely, and her journey with the wizard Howl to reverse the spell as they travel in his magical moving castle.
In "The Tale of the Princess Kaguya," a tiny girl is found inside a shoot of bamboo by a humble bamboo cutter who raises her as his own daughter.
The event is free and open to the public with snacks provided by the Asian Market while supplies last. For more information, visit kstateupc.com or call 785-532-6571.