September 19, 2019
Reminder: Last few days to register for International Coordinating Council Championships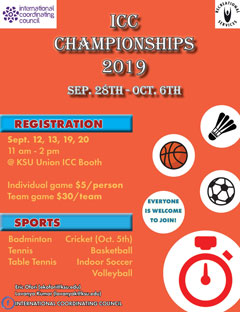 The International Coordinating Council will host the annual International Coordinating Council Championships, a weeklong series of sporting competitions to celebrate cultural understanding and sensitivity through sports, Sept. 28-Oct. 6 at the Chester E. Peters Recreation Complex.
This year's sports include badminton, singles/doubles/mixed; tennis, singles/doubles/mixed; table tennis, singles/doubles/mixed; indoor soccer, basketball, volleyball and cricket. Cricket will take place on Oct. 5 at World War I Memorial Stadium with a limit of six teams. Teams will be chosen on a first-come, first-served basis.
Activities are open to all K-State students with a K-State ID. Scholars, faculty, staff, spouses and other dependents ages 18 and older are welcome as long as they have a valid ID such as a driver's license or passport. This is a great opportunity for you and your friends to come together and compete against other teams and win awards.
The registration fee is $5 each for the first and second individual sports and free from the third sport onward. For group games, registration fee is $30 per sport for the entire team.
Please fill out the Google form and bring the registration fee — cash or card payments made to the International Coordinating Council — at the ICC booth from 11 a.m. to 2 p.m. Sept. 19 and Sept. 20. at the K-State Student Union.
Group teams can fill one form, preferably by the group captain. See Google form for directions. If you need assistance filling out the form, come to the ICC booth on the dates mentioned above or email Eric Ofori at ekofori@k-state.edu or Lavanya Kumar at lavanyak@k-state.edu.
View the event flier or check out the ICC group's Facebook page for more information.
Please note that your registration is not complete until you make the registration payment.
International Coordinating Council is a registered departmental student organization.