September 17, 2019
Tap Dance and Doughnuts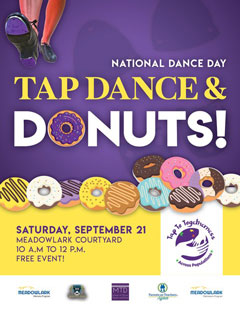 Join the K-State Tap Dance Ensemble, Tap To Togetherness, Manhattan Parents as Teachers, and the Meadowlark Hills community for National Dance Day and enjoy Tap Dance and Doughnuts from 10 a.m. to noon Saturday, Sept. 21. This is a come and go event at 2121 Meadowlark Road, in the courtyard. Inclement weather location the Meadowlark Hills Community Room.
The event is free and open to everyone.
For more information, contact Julie L. Pentz at jpentz@k-state.edu.