September 9, 2019
A letter from K-State Chief Diversity and Inclusion Officer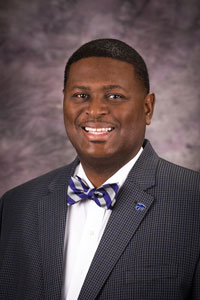 Greetings, K-Staters and friends!
I'm writing to wish all of you a wonderful start to a very exciting year. Last year, we experienced several successes that we will continue to build on for 2019-2020.
Our students have received national attention through a variety of awards such as being selected as scholars for the National Conference on Race and Ethnicity and the Best in the Big 12. Many of our programs are also nationally recognized such as our LGBTQ Resource Center and our KAWSE office. In addition, we repeatedly receive prestigious national awards such as the Insight Into Diversity magazine Higher Education Excellence in Diversity, or HEED, Award. These accomplishments are a testament to the university's inclusive excellence and our efforts to come together with KSUnite to build on that momentum.
Students, faculty, staff and community members are invited to participate in the third KSUnite: Moving Forward Together from 12:30-3:30 p.m. Wednesday, Nov. 6, in the K-State Student Union. This year's KSUnite will emphasize the importance of all K-Staters valuing diversity and inclusion and interacting with each other to capitalize on the learning opportunities that differences can create. Moving Forward Together we will enhance our knowledge about diversity and inclusion and support the affirmation of the inherent dignity and value of every person in creating a climate based on respect for each other. There are 20 sessions slated for the 2019 KSUnite to engage, educate and empower our community on the diversity and inclusion continuum. These sessions will cover topics such as access and student success, accessibility, immigration, inclusivity, intercultural leadership, intersectionality, race, religion, sexual violence, social justice and tough conversations. More information on KSUnite, presenters, speakers and registration will be available soon.
There are many other initiatives that I would like to expand upon in my following letters to the K-State community — such as the Strategic Diversity Plan, Future Faculty Program, and the Difficult Dialogues resource for faculty. I will continue to provide updates to these amazing initiatives through K-State Today but also in our external enewsletter, KSUnite Weekly, which was created to highlight the university's diversity and inclusion news and events. A link to this newsletter is also provided in K-State Today to let the K-State community see what is being delivered to external audiences — such as high school counselors. If you or anyone you know would like to receive KSUnite Weekly directly to your inbox, you may subscribe here.
As always, all these successes and valuable initiatives would not be possible without an entire community. Thank you to everyone who has worked and continues to work to make K-State a welcoming place for all.
Sincerely,
Bryan Samuel
Chief Diversity and Inclusion Officer