September 9, 2019
University Support Staff Fall Open Forum
Submitted by University Support Staff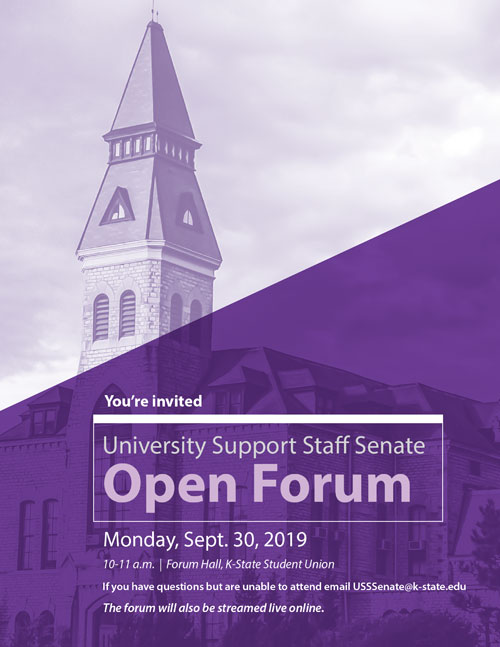 Greetings!
The fall semester has started and we are excited to once again, host a Fall USS Open Forum from 10-11 a.m. Monday, Sept. 30, in Forum Hall of the K-State Student Union. The forum is an opportunity to have an open dialog with our president and some of his cabinet members. On behalf of the University Support Staff Senate, you are cordially invited to submit your questions for the upcoming event by Sept. 20 by emailing them to usssenate@k-state.edu.
Key items to note include the following:
We will have dedicated senators with microphones to ask your question.
Similar questions will only be asked once.
As always, you may bring your question to the forum.
This fall's guest panelists are:
Charles Taber, provost and executive vice president
Cindy Bontrager, vice president for operations and chief operating officer
Jay Stephens, vice president for human capital services
Ethan Erickson, chief financial officer and director of budget planning
We hope to see you at the forum, however, if you are not able to attend, this event will be streamed live at k-state.edu/usss. Look for additional details in your email inbox and K-State Today.