September 3, 2019
Freeland continues research in France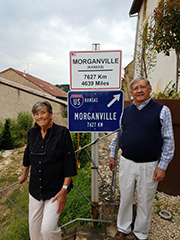 Gloria Freeland, assistant professor of journalism and mass communications, was in France two weeks over the summer to continue her research on the connection between Morganville, Kansas, and Fèves, France. Morganville adopted Fèves after World War II, and a 1948 pageant play in Morganville helped raise money for the war-devastated French village. Over several years, Morganville citizens had other fundraising events that allowed them to donate food, seeds, clothing, powdered milk and other items.

Students in Freeland's spring 2013 News and Feature Writing class rediscovered the connection between the two villages and, since then, Freeland and her husband, Art Vaughan, have interviewed people connected with the story, discovered hundreds of related documents and photographs, and created a website: morganvillefeves.org. They also plan to publish books in English and French.

Two actors from the 1948 play, Jay Mellies, Clay Center, and Margretta (Flinner) Fosse, Vero Beach, Florida, were part of the group traveling with Freeland and Vaughan. Fosse graduated from K-State in 1963 with a humanities degree with an emphasis in American history. K-State journalism graduate Velma Carson, who wrote the 4,500-word play that described Morganville's history, was Fosse's aunt.

Other K-Staters who traveled with Freeland and Vaughan to France were Louise Benjamin, associate dean and professor in the College of Arts and Sciences, and Debra Skidmore, professor in the A.Q. Miller School of Journalism and Mass Communications.