June 13, 2019
K-State veterinary student selected for National Livestock companies scholarship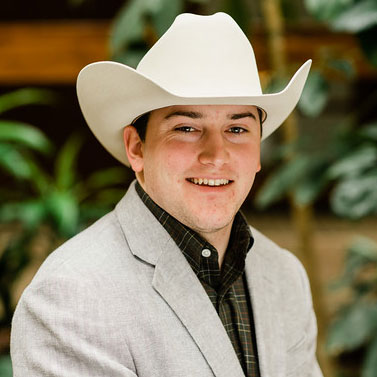 Braxton Butler, third-year veterinary student, Virgil, has been awarded a $5,000 scholarship from the National Livestock Companies consisting of National Livestock Credit Corporation and National Livestock Commission Association. The award was presented to Butler at the National Livestock Annual Meetings in Oklahoma City in March.
Overall, National Livestock presented two veterinary medicine scholarships and 22 undergraduate agriculture scholarships, totaling $54,000, to deserving current college students and/or high school seniors.
"I am very honored to have received this scholarship from National Livestock," Butler said. "After school I plan on locating to a rural practice where I can work alongside National Livestock and their clients in a relationship that will hopefully benefit both local producers and the beef industry as a whole."
To be eligible for the annual scholarships, students must be attending or planning to attend an accredited university pursuing a degree program in agriculture or an agriculture-related program. Students must also be a family member of a customer of the National Livestock Companies or be recommended by a customer of the National Livestock Companies. A minimum grade point average of 2.75 must be maintained.
For more information on the National Livestock Companies Scholarship Program, visit its website.