June 13, 2019
Barstow and Buckwalter named fellows by American Physiological Society
Submitted by College of Health and Human Sciences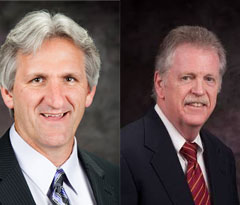 Tom Barstow, professor of kinesiology, and John Buckwalter, dean of the College of Health and Human Sciences, have been named fellows by the American Physiological Society.
The rank of fellow in the American Physiological Society is an elite member status reserved to honor distinguished leaders who have demonstrated excellence in science, have made significant contributions to the physiological sciences and related disciplines and have served the society.
Barstow joined the kinesiology staff at K-State in 1996. His research focuses on six topics: assessment of astronaut fitness requirements; pulmonary and capillary gas exchange; coupling of muscle blood flow to metabolism; fatigue; endothelial function in health and disease; and efficiency of exercise.
During his professional career, Barstow has received more than 21 grants totaling more than $7.2 million from organizations that include the National Institutes of Health and NASA. He has served as the major professor for 10 doctoral students and 46 master's students. His career is highlighted by multiple honors and awards, including the Faculty Research Excellence award from the College of Health and Human Sciences; three-time winner of the K-State Professorial Award for Sustained Excellence; and the Exemplary Teaching Award from Sigma Lambda Beta fraternity at K-State. Barstow is also a fellow of the American College of Sports Medicine. He has been an active member of the American Physiological Society since 1989, serving on the editorial board for the Journal of Applied Physiology since 2000 and by reviewing articles for the Journal of Applied Physiology since 1989 and the American Journal of Physiology since 1990.
He received all three of his degrees from the University of California, Davis: a bachelor's degree in nutrition in 1974, a master's degree in physical education in 1978 and a doctorate in physiology in 1985.
Buckwalter has served as dean of the college since 2013. Before arriving at K-State, Buckwalter was the associate dean for research and graduate studies at the University of Texas, Arlington where he taught exercise science and exercise physiology. Before taking an administrative role, he had an active research program investigating the neural control of circulation, publishing more than 30 original research articles that appeared in American Physiological Society journals. He has received more than $3 million in grant funding throughout his career from organizations such as the National Institutes of Health and the American Heart Association.
At K-State, Buckwalter has committed to promoting a culture of excellence within the college and creating an environment where students can access transformational educational experiences. Under his direction, the college has established a professional mentoring program, a new physician assistant program and has recently executed a college name change. He has been a member of the American Physiological Society since 1998.
Buckwalter has a doctorate and a master's degree in kinesiology with an emphasis on exercise physiology from the University of Arkansas, Fayetteville and a Bachelor of Arts in Spanish and a Bachelor of Science in physical education and health from Centenary College.
Founded in 1887, the American Physiological Society is a global leader in expanding knowledge related to biological function. The organization connects a multidisciplinary community of nearly 10,000 scientists and educations from around the world, driving collaboration and spotlighting scientific discovers in physiology and related disciplines. View a full list of APS Fellows.