February 19, 2019
K-State Proud College Week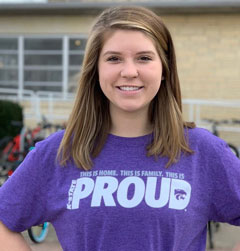 K-State Proud is K-State's premier student philanthropy, led by the Student Foundation organization. Over the past 11 years, Proud has raised more than $1,136,506 for Student Opportunity Awards to help more than 650 students stay at K-State who otherwise would not have been able to continue their education.
This year's K-State Proud College Week will be Feb. 18-22. You can find us at the following locations and days between 10:30 a.m. and 1:30 p.m.
Tuesday, Feb. 19, Seaton Hall and Durland/Rathbone.
Wednesday, Feb. 20, Waters Hall and Calvin Hall.
Thursday, Feb. 21, Trotter Hall.
Friday, Feb. 22, College of Business Building and Leadership Studies Building.
Follow K-State Proud on Twitter, @KStateProud, for more information.
Be sure to stop by the K-State Proud tables during College Week to donate for a new Proud T-shirt and help continue the K-State tradition of #StudentsHelpingStudents.