December 12, 2018
Take a study break with 91.9 KSDB today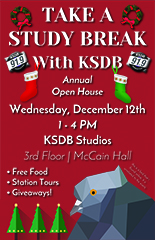 91.9 KSDB-FM, K-State's student-run radio station, will host its annual open house from 1-4 p.m. Wednesday, Dec. 12, on the third floor of the music addition in McCain Auditorium. The event will include free food and tours of the radio station, plus the chance to get on air and meet your favorite DJs.
KSDB has been broadcasting from campus since 1949 and maintains a satellite studio in the K-State Student Union in addition to main studios located in McCain Auditorium. KSDB will celebrate its 70th anniversary next year, and recently welcomed Ian Punnett as the new faculty adviser and chief operator. Punnett is a host of the national program, "Coast to Coast AM."
KSDB broadcasts 24/7/365 on 91.9, online at ksdbfm.org, on Amazon Alexa and other home speakers, and on apps for iOS and Android in addition to TuneIn and NextRadio.