December 12, 2018
From President Myers and Provost Taber: K-State in KC Task Force appointed
Submitted by President Richard Myers and Provost Charles Taber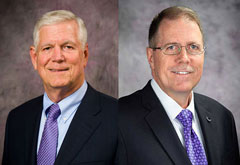 Dear K-State Community,
The Greater Kansas City region has always been important to Kansas State University with nearly 6,000 students and more than 45,000 alumni from that area. We also believe it is a region with untapped opportunity for K-State. For that reason, we are creating a task force to help the university develop plans and initiatives for increasing K-State's presence and engagement in the Greater Kansas City area.
The charge for the group is to explore opportunities for academic and business engagement in the Greater Kansas City market that will raise the university's presence and visibility while growing K-State's enrollment, tuition base and revenue. The desire is to be strategic while moving quickly to address diverse and fluctuating market needs — short term and long term.
While broad in nature, the task force will focus on five key areas:
Enhanced cultivation of K-12 opportunities.
Heightened community college engagement through partnerships and pathways.
Intensified academic programming growth (particularly existing or new learning solutions that meet an identifiable market need).
Development of just-in-time and/or customized learning solutions (with consideration of the needs of key employers — business, industry, government, etc.).
Strengthened community engagement fostering increased enrollment, research opportunities and university connections.
In addition, the task force will make recommendations for a structure/staffing model for the university to use in optimizing an overall Kansas City Strategy.
Karen Pedersen, dean of Global Campus, will lead the task force, and members are:
Michael Apley, professor of clinical sciences, College of Veterinary Medicine.
Pat Bosco, vice president and dean of students, Division of Student Life.
Stefan Bossmann, professor of chemistry, College of Arts and Sciences.
Nozella Brown, director, Wyandotte County Extension.
Linda Cook, chief of staff and director of community relations.
Cynthia Fails, alumna from Kansas City.
Gregg Hadley, associate professor and director for extension, K-State Research and Extension.
Brandon Kliewer, assistant professor, Staley School of Leadership Studies.
Vladimir Krstic, professor of architecture, College of Architecture, Planning & Design.
Chwen Sheu, associate dean for academic programs, College of Business Administration.
Jackie Spears, acting associate dean for academic affairs, K-State Olathe.
Jeff Tucker, executive director, Advanced Manufacturing Institute.
Phillip Vardiman, associate professor of food, nutrition, dietetics and health, College of Human Ecology.
Ex officio: Sue Peterson, assistant to the president and director of government relations.
The task force is expected to meet throughout the spring semester and we thank the members for their willingness to serve the university in this very important initiative.
Sincerely,
Richard B. Myers
President
Chuck Taber
Provost and Executive Vice President