August 29, 2012
Save the dates: K-State Book Network events for fall 2012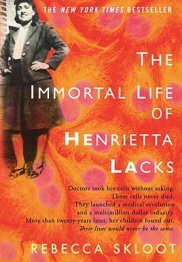 The K-State Book Network, or KSBN, is planning several campus events this fall to discuss the 2012 book selection, "The Immortal Life of Henrietta Lacks" by Rebecca Skloot.
"A Conversation with the Lacks Family," will be 7 p.m. Thursday, Sept. 20, in the K-State Student Union Grand Ballroom. The son of Henrietta Lacks, David "Sonny" Lacks, and another Lacks family member will be on campus to add their voices to the remarkable history documented in Rebecca Skloot's book.
"The Ethics of Research: A Faculty/Student Panel," will be at 4 p.m. Tuesday, Oct. 2, in Town Hall at the Leadership Studies Building. K-State faculty and students from multiple disciplines will reflect on the intersection of ethics and the research process.
"Speaking the Silences: Women and Race in Kansas History," will be at 7 p.m. Tuesday, Oct. 30, in the Hemisphere Room at Hale Library. Undergraduate student researchers will share their discoveries about women and race in our own backyards.
Additional information about fall events will be posted on the program's website. More information about K-State Book Network, the selection of each year's book and how you can get involved is also available online.