August 29, 2012
Math, science program simulates the college experience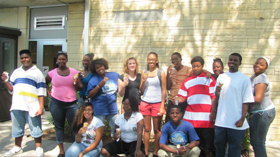 A select group of 15 Upward Bound Math and Science pre-college students from Highland Park High School in Topeka recently completed a six-week summer component, designed to simulate a college-going experience. The program included daily math, science, English and foreign language course work; structured community service; and recreational activities.
Four instructors, Judy McClendon, LaBarbara Wigfall, Michael Munoz and Vicky Hanning Cassem; two peer mentors, Jacar Union and Valencia Garcia; and one foster grandparent, "Gma" Nancy Stover, provided instruction, guidance and encouragement. Elverta Vassol is the director of the program.
This program receives funding through the U.S. Department of Education and provides assistance to low-income, first-generation students who do not have the same opportunities to prepare, enroll and complete postsecondary education.