October 8, 2018
Ginette Aley joins Chapman Center as research director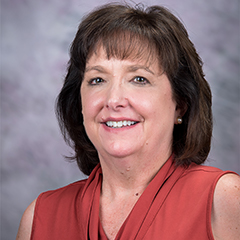 Ginette Aley joins the Chapman Center as research director after more than 15 years as a college educator.
Aley taught courses at Virginia Tech, Drake University, the University of Southern Indiana, Washburn University, as well as online courses for Purdue University before beginning her association with K-State in fall 2017. She is also currently the associate editor for Kansas History: A Journal of the Central Plains. Her love of the Midwest and Great Plains and the region's students is reflected in her work.
Professionally, Aley is a 19th-century U.S. historian specializing in the nation's agrarian past. Her dissertation focused on native-white relations and westward expansion in the Old Northwest, particularly as they impacted women and families. This resulted in several peer-reviewed, published essays. On the basis of this expertise, she was asked to contribute two essays on Confederate Virginia's home front during the Civil War for William C. Davis and James I. Robertson's "Virginia at War" series, the 1864 and 1865 volumes. Aley was then approached by an editor for a corresponding book on the Midwestern home front which became her co-edited — with J. L. Anderson — volume, "Union Heartland," published in 2013 by Southern Illinois University Press. This was the first regional historical perspective of the Midwest's home front during the Civil War. Her current research examines pioneering women and their health, Midwestern Civil War soldiers' views on encountering the Confederate South, and Amish farming practices.
Assuming the role of research director for the Chapman Center allows Aley to continue in her passion for mentoring student research projects. She was one of three founding editors for Amalgam, an undergraduate research journal at the University of Southern Indiana. Her experience in undergraduate publication fits in perfectly with the center's digital archive. Aley looks forward to a very positive and productive association with the Chapman Center.
To learn more about the Chapman Center, visit its website, or follow on Facebook, Instagram, Twitter, or the Rural Telegraph.