Students selected to promote K-State Libraries, educate peers

Monday, Oct. 8, 2018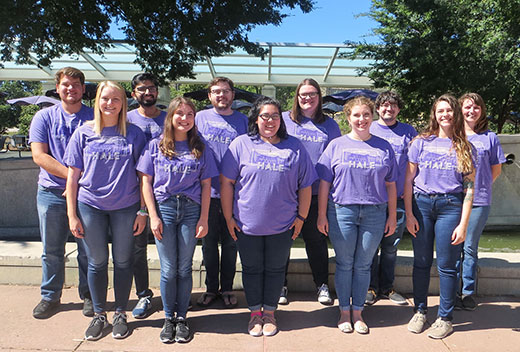 The newest members of the K-State Libraries Student Ambassadors, front row, from left: Kali Poenitske, Cassandra Wefald, Jocilyn Sarsozo, Tara Dorsch and Zoe Nicolet; back row, from left: Piercen Mendola, Sidharth, Nick Dean, Alex Wulfkuhle, Tyler Bowen and Taylee Helms. | Download this photo.


MANHATTAN — After a May 22 fire closed Kansas State University's Hale Library, K-State Libraries' flagship building, the thousands of students who used it on a regular basis had a lot to say about the loss of their go-to study location.
A select few went further, applying to become library ambassadors. Ultimately, 10 students from a wide range of majors and at both the undergraduate and graduate levels were selected through a competitive process to join the ranks of the K-State Libraries Student Ambassadors. This motivated group will have a unique opportunity to promote K-State Libraries and advocate for Hale Library's future.

Ambassadors serve two-year terms as representatives for K-State Libraries at social, cultural and recruitment activities. They also provide valuable feedback on K-State Libraries' initiatives and services, as well as advocate for the perspectives of the larger university student body. The ambassador program provides students with leadership skills, professional connections and the opportunity to make a positive impact at the university. For more information about the program, visit lib.k-state.edu/ambassadors.

The ambassadors were chosen following an application period and finalist interviews. The interview committee included advisers Sara Kearns, academic services librarian, and Darchelle Martin, public relations officer. They were joined by three of the group's current members.

"We're proud to have an amazingly diverse group," Martin said. "Our students range from first-years through doctoral candidates, and they're studying a broad range of disciplines. That's helpful because the ambassadors have become an integral part of how we present K-State Libraries at community and recruitment events and how we make important decisions about programming and services."

The following students are new K-State Libraries Student Ambassadors for 2018-2020:

Zoe Nicolet, junior in gender, women, and sexuality studies, and history, Dodge City; Tyler Bowen, senior in political science, Maize; Nick Dean, doctoral candidate in counseling and student development, and Cassandra Wefald, freshman in history, both from Manhattan; Tara Dorsch, junior in political science and history, and Jocilyn Sarsozo, junior mass communications, both from Overland Park; Kali Poenitske, freshman in open option, Pittsburg; Alex Wulfkuhle, junior in family and consumer sciences education, Spring Hill; and Taylee Helms, senior in English, Wamego.
From out of state: Piercen Mendola, freshman in mechanical engineering, Ocala, Florida.
From out of country: Sidharth, sophomore in political science, India.