Welcome to the Chapman Center homepage!
Students of our undergraduate digital humanities research lab gain professional experience as they research, write, and publish Kansas history. Visit our digital archive of small town research papers here. Launch your research by visiting our resource page or arrange a visit to our Center at Kansas State University.
News & Events
View our trailers for the Going Home Exhibit September 24, 2016 - January 8, 2017
Laura Ingalls Wilder once said, "Home is the nicest word there is." However, what if your town or home is no longer there? Explore hidden places in the Flint Hills and tell us all about what 'Going Home' means to you.

There will be many interactives within the exhibit, including a map to help located lost town in the Flint Hills, iPad stations with stories of communities, a place for visitors to record their memories, a children's area and more.

This exhibition represents the work of undergraduate students over the past several years working with faculty in the Chapman Center for Rural Studies at KSU, and made possible by an estate gift from Mr. Mark Chapman. The stories, images, sounds and even the exhibit films were written, discovered and shot by an amazing and talented group of young scholars who care deeply about the Flint Hills.
The exhibition opens Saturday, September 24 at 10 a.m. to the public. FHDC members receive a sneak preview on Friday, September 23, 5:30-7 p.m. Please call 785.587.2726 to reserve your space today.
"On the Brink of Medical Change..." Lost Kansas Communities Student Returns to Serve
By 2015-2016 Chapman Center for Rural Studies Intern
Each year, thousands of students graduate from K-State and move to bigger and better things outside Manhattan. However, one former student of Dr. Morgan's Lost Kansas Communities class is doing bigger and better things after moving back to town. Dr. Taylor Funke, who recently began working at a Chiropractic office in town, is living in Manhattan again, and hopes to somehow give back to Kansas State University.
Taylor explained how his love for both the University and Manhattan is what brought him back. He also liked the idea of not being too far from his hometown of Osborne. "I wanted to be able to come back and become involved with the University in some way." Taylor hopes to be able to teach a class someday. "I just knew that I really love to teach and I wanted to somehow give back to what was given to me."
Taylor is from Osborne, a small-north central Kansas town. He was inspired to take the Lost Kansas Communities class due to his interest in other small communities. "My dad was a veterinarian; we would go on vet calls in the country and I would always find these little towns and cemeteries that were around there. I wondered 'What was the story behind all of this?' or 'What used to be here?'"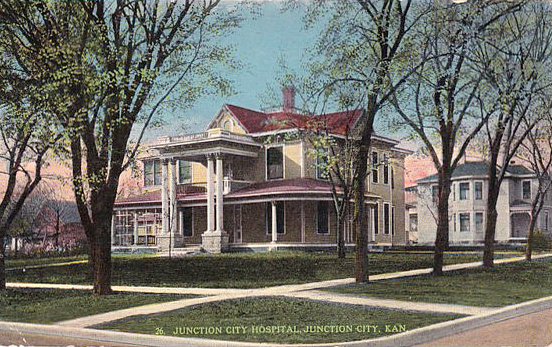 Each student in Lost Kansas Communities researches and writes a semester-long historical study of a topic of their choice. Taylor had an interest in healthcare and after working with Dr. Morgan to choose a topic, was able to research the first hospital in Junction City. "It was great to meet people that were excited about what I was doing and helping to provide some history about Junction City", said Taylor.
"[It was] the best class I had taken at K-State, hands down. I'll be completely honest. I just loved learning about little things I never knew about history, in Kansas, especially. I found out some stuff about my hometown that I had never known… I really liked that we went on a lot of adventures around the area; we went to the Broughton site, we went to an old schoolhouse down by Wabaunsee [County] …We got to physically be with history… She also taught us the academic side to go along with that so we could connect some stories."
Taylor described his experience in Dr. Morgan's class as something he will never forget. His research of historical medical practices culminated into "On the Brink of Medical Change: The Junction City Hospital, Junction City, Geary County, Kansas, 1913 - 1921" and explored how the establishment of the hospital brought needed improvements to the area's health and prosperity.
A normal day at the office for Taylor includes meeting with patients and addressing whatever issues or concerns they may be having that day. He often works with athletes and has adjusted patients both young and old. Taylor's office, Premier Chiropractic and Wellness, is located off Seth Child Road and K-18 highway.
---
Have you visited our blog,"The Rural Telegraph," featuring original student research or swung by the Chapman Center for Rural Studies on Facebook and Twitter? #MakeHistory and come on by.
---
Chapman Center Intern & 2016 K-State Graduate Leaves Written Legacy
Anthony's study of the vanished community of Magic, Riley County, Kansas, appears in the May issue of Kansas Kin... Learn More!

Passion for History Evident in Student's Small Pox Research
In "The End of an Old Enemy: Smallpox in Clay County from 1900-1925," Shannon Nolan discusses the devastating effect the epidemic had on the small communities in Clay County Smallpox in Clay County

Spring Break in Western Kansas with New Friends
While K-State students searched for their Spring Break refreshment, the Chapman Center's Executive Director headed west to forge new connections on behalf of Chapman Center for Rural Studies' research. What did she find?

Student's Determination Opens Doors in Research
During the lengthy and complicated research process, all students are faced with obstacles of some form, but the roadblock Rachel surmounted was quite significant. She visited the Pearl three times... Read more

Oronoque: Out of the Ashes
"What comes to mind when you think of northwestern Kansas? Is it the rolling hills, prairie grass, fields of wheat and corn, or flowing streams? This paints a scene of Oronoque, Kansas. Discover more

History in Action: Students help restore Maple City School House
Students in Dr. Bonnie-Lynn Sherow's History of American Agriculture and Food class recently traveled to Maple City, Cowley County, Kansas, to help restore the town site's school house. Learn more here

Explorations in Public History
Spring 2015
Dr. Lynn-Sherow led her Public History class through several collaborative projects exploring Lost Kansas Communities, historic preservation, digital humanities, museum curation, and even Wikipedia. Discover more

Summer 2015 Busy with Research, Digitization, and Exhibit Development
Meet the Chapman Center Summer 2015 Research Team and learn about their projects here.

Field Research and the Chapman Center for Rural Studies
Learn how History comes to life and students explore Kansas history. Read more
A Rediscovered Legacy
Thanks to diligent research by Chapman Center Intern, Michael Spachek, the once forgotten history of a substantial group of Wabaunsee County black farm families has been brought to life. Read more

Adams' Collection Research Honors Family
Jessica Hermesch worked with a donated collection of military records to build a service narrative of George Adams, Sr., World War I soldier. Read more

Chapman Center Presents Alan Winkler with Bruntzel Award
The Chapman Center for Rural Studies is pleased to announce Alan Winkler, retired Wabaunsee County Historical Museum Curator, as the recipient of the 2015 Bruntzel Award. Read more
In Loving Memory of Mark A. Chapman (1943-2014)
We lost a very close member of the K-State family early April 18, 2014. Mark A. Chapman passed away at 71. Read more
---
The Chapman Center for Rural Studies is an undergraduate research-based center that provides hands-on experience in doing the real work of historians. We are located in 111 Leasure Hall in the heart of the Kansas State University campus in Manhattan, Kansas.
Office hours: Monday - Friday, 8:00 a.m. - 5:00 p.m.
Call us at 785-532-0380.
Search through the Chapman Center's on-going project, the Lost Town Digital Archive: Lost Kansas Communities.
---
For more information, email us or email the Executive Director, Professor Bonnie Lynn-Sherow.