September 25, 2018
K-State Fighting for a Cure shirt sale at Farmers Market Sept. 26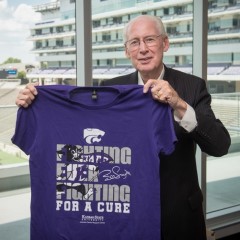 The K-State Cancer Fighters student organization will sell 2018 Bill Snyder commemorative Fighting for a Cure shirts at the K-State Farmers Market from 11 a.m. to 1 p.m. Wednesday, Sept. 26, on Bosco Student Plaza at the K-State Student Union.
Supporters are encouraged to wear their shirts to the football game or anywhere Oct. 13 in celebration of K-State's fifth annual Fighting for a Cure Day, which honors the K-State family's cancer survivors and researchers.
Fighting for a Cure shirts raise funds and awareness for K-State's Johnson Cancer Research Center. Since 2014, shirt sales have raised $35,000 for cancer research and education at the university.
More information about the shirts and Fighting for a Cure Day is on the Johnson Cancer Research Center's website.