September 25, 2018
Scarpa to present 'Ordinary and Extraordinary' in next APDesign Ekdahl Lecture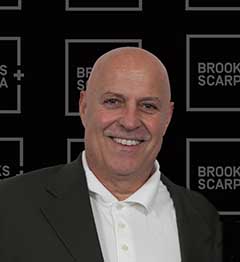 The College of Architecture, Planning & Design, or APDesign, will host Lawrence Scarpa, fellow of the American Institute of Architects and principal at Brooks + Scarpa Architects, as part of the Ekdahl Distinguished Lecture Series.
Scarpa will present "Ordinary and Extraordinary" at 4:30 p.m. Monday, Oct. 1, in Regnier Hall's Regnier Forum on the K-State Manhattan campus. The lecture is free, open to the public and is sponsored in part by the K-State Student Governing Association's fine arts fee.
Scarpa has garnered international acclaim for the creative use of conventional materials in unique and unexpected ways. He also is considered a pioneer and leader in the field of sustainable design. He is the recipient of the Smithsonian Cooper-Hewitt National Design Museum Award in Architecture and also was awarded the state of California and National American Institute of Architects Architecture Firm Award. Over the last 10 years, Scarpa's firm has received more than 50 major design awards, including 19 National AIA Awards, Record Houses, Record Interiors, the Rudy Bruner Prize, five AIA Committee on the Environment "Top Ten Green Building" Awards and the World Habitat Award, one of 10 firms selected worldwide. He also has received the lifetime achievement awards from Interior Design Magazine and the AIA California Council.
Scarpa's work has been featured in numerous publications and has been exhibited in venues such as the Museum of Contemporary Art Los Angeles, the National Building Museum and the Gwangju Biennale. Scarpa also has appeared on "The Oprah Winfrey Show."
Currently, he is on the faculty at the University of Southern California and has taught and lectured at the university level for more than two decades. Some of those institutions include the University of North Carolina at Charlotte; Harvard University; University of California, Los Angeles; Southern California Institute of Architecture; Washington University in St. Louis; University of Florida; University of Michigan; University of Southern California; and the University of California, Berkeley. He is a co-founder of the Affordable Housing Design Leadership Institute Livable Places Inc., a nonprofit development and public policy organization dedicated to building mixed-use housing and to help develop more sustainable and livable communities.
The Oscar S. Ekdahl Distinguished Lecture Series in Architecture and Design brings the finest professionals in the design and planning disciplines to APDesign and the K-State community. These individuals are selected to avail faculty, staff, students and regional professionals to the potency of design and planning in addressing the issues we face as a global society. The series honors Oscar Ekdahl who received his Bachelor of Architecture from K-State in 1933 and was a founding partner in Ekdahl, Davis, Depew, Persson Architects PA in Topeka.