September 21, 2018
K-State students, faculty observe Banned Books Week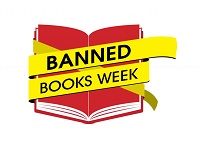 The K-State Department of English, Sigma Tau Delta International English Honor Society, and 91.9 KSDB Manhattan, K-State's student-run radio station, are co-sponsoring a series of events Sept. 23-29 to recognize Banned Books Week.
K-State students, faculty and staff will read from notorious and surprising banned books 12:15-12:30 p.m. Monday-Friday, on 91.9 FM. Selections include books that have been banned or challenged in libraries and schools. In addition, there will be a table on the first floor of the Union staffed from 11 a.m. to 1 p.m. on Monday, Wednesday, and Friday to share information about Banned Books Week and the opportunity to enter a free drawing for a gift certificate to Claflin Books.
For further information, contact the English department in the College of Arts and Sciences at english@k-state.edu. To learn more about Banned Books Week nationwide, visit the American Library Association website at ala.org/bbooks.