September 21, 2018
Hospitality management department presents inaugural World of Wines event series
Submitted by College of Human Ecology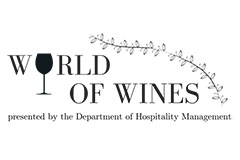 The hospitality management department in the College of Human Ecology announces a new event series to begin this fall called World of Wines.
This year, the World of Wines will feature four events over a three-day period. All events will feature Frank Kaemmer, master sommelier, from Germany. Kaemmer will introduce guests to various types of wines, educate on the history of winemaking and talk about the production processes of wine.
"The World of Wines event consists of several exciting wine events that the department of hospitality management organized so that students, faculty, alumni and community members can enjoy and learn more about wines around the world," said Michael Ottenbacher, hospitality management department head. "We want to increase the awareness of the hospitality management program here at K-State and raise funds to support our students who wish to study abroad for a semester or students and faculty who want to attend conferences around the country."
The three-day events begin at 6 p.m. Wednesday, Oct. 24, with a four-course meal at Harry's Restaurant in downtown Manhattan. The chefs at Harry's will prepare special dishes for guests that complement the evening's wine features. Seating is limited to 50 people and tickets are $125 per person. The deadline to order is Oct. 20.
On Thursday, Oct. 25, students in the hospitality management graduate program will make sushi rolls in-house to accompany Kaemmer's wine selections. Guests will get a variety of different fish and roll types along with different wines and Saki throughout the event. Seating is limited to 60 people and tickets are $25 per person with a portion of the money going to the Graduate Student Education Fund. This event will be from 6-7:30 p.m. in Hoffman Lounge, Justin Hall. Parking is available on campus after 5 p.m. for free.
Friday, Oct. 26, will feature two workshops with Kaemmer. The first workshop will be the Champagne Service where guests will learn proper storage and serving temperatures along with proper opening and pouring techniques of one of the world's finest beverages. At the conclusion of the class, guests will get a complimentary glass of champagne. The event will be 5:30-6:15 p.m. in Justin Hall. Tickets are limited and are $10 per person.
The second workshop will be a 60-minute tasting workshop on the Riesling Terroirs of Germany. Guests will enjoy samples of a variety of Rieslings while learning about the diversity of Germany's signature wine. The event will be 6:30-7:30 p.m. in Justin Hall. Tickets are limited and are $10 per person.
Tickets are available online through the K-State Alumni Association or by phone at 785-532-3360. More information also can be found at the K-State Hospitality Management Facebook page. Guests must be 21 or older to attend.