September 21, 2018
K-State agronomist to discuss water quality concerns and solutions for Kansas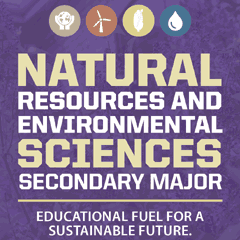 Nathan Nelson, professor of agronomy, will give a public lecture at 11:30 a.m. Thursday, Sept. 27, in 231 Ackert Hall.
Nelson will discuss some of the complex interactions between tillage, cover crops, and fertilizer management on sediment and nutrient losses in Kansas, and how these practices impact water quality and water storage in reservoirs. He also will address possible solutions, including watershed-specific, integrated systems approaches designed to address the transport pathways and contaminants of concern.
This talk is being presented for students participating in the capstone course of the natural resources and environmental science secondary major and is open to the general public as part of the Natural Resources and Environmental Science Seminar Series. Undergraduate students interested in natural resources, environmental science, and sustainability issues are especially encouraged to attend.
The natural resources and environmental science secondary major and its seminar series are generously supported by the Office of the Provost, College of Agriculture, College of Arts and Sciences, biological and agricultural engineering department, and geography department.