September 24, 2018
Join Friends of the K-State Libraries for the 2018-19 Hale Library Concert Series
Submitted by Sarah McGreer Hoyt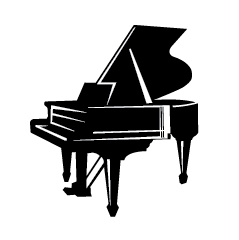 Will the Hale Concert Series continue this year in spite of the fire? Absolutely!
Not only will the show(s) go on, but the first concert of the season is free: Bryan Pinkall, tenor, and Amanda Arrington, piano, will present a concert at 3 p.m. Sunday, Nov. 11, at All Faiths Chapel.
In honor of the 100th anniversary of the end of World War I, the concert will celebrate with the program "Voices on the Western Front." Through videos and live music, the audience will experience the stories of three men during World War I: English composer George Butterworth, Olympic gold medalist Frederick Kelly and French composer Alberic Magnard.
Pinkall and Arrington presented the program at the National World War I Museum and Memorial in Kansas City this summer.
"The Kansas City performance was received with great gusto," said Mary Ellen Titus, co-chair of the Friends' concert series committee. "We ask that you bring your friends and anyone you think might be interested. There's no charge; instead, it's an outreach concert sponsored by the Friends of the K-State Libraries and the School of Music, Theater, and Dance."
Save the dates for the remainder of the concert series, which will take place during the spring semester. Tickets will go on sale in October.
On Friday, Feb. 1, 2019, Slawomir Dobrzanski and Agustin Muriago will perform a four-hand concert of piano music at 7:30 p.m. in the Bluemont Room of the K-State Student Union. The program will include works by composers Debussy, Ravel, Poulenc and Faure. For the finale, they will play a bombastic piece by Antoine de Kontski. Refreshments will be served afterward.
On Friday, April 12, 2019, we celebrate the 80th birthday anniversary of former K-State composer-in-residence Hanley Jackson with a recital of his solo and chamber music at 7:30 p.m. in the Bluemont Room of the K-State Student Union. Hanley was an award-winning composer and active member of the American Society of Composers, Authors and Publishers who scored music for many films. The program features several returning K-State music faculty members, including Patricia Thompson, mezzo-soprano, who will perform "Letters to Santa," a whimsical and poignant composition based on texts by Manhattan children. Refreshments will be served afterward.
And finally, at 7:30 p.m. on Friday, May 31, 2019, get ready for an evening of jazz with the K-State Faculty Jazztet! We'll be staging a rollicking Jazz in (Almost) June in the K-State Student Union Ballroom. Refreshments will be served prior to the concert.
For more information, visit our events page or contact the K-State Libraries public information officer, Darchelle Martin, at martin05@k-state.edu or 785-532-7442.