September 24, 2018
September is Hunger Action Month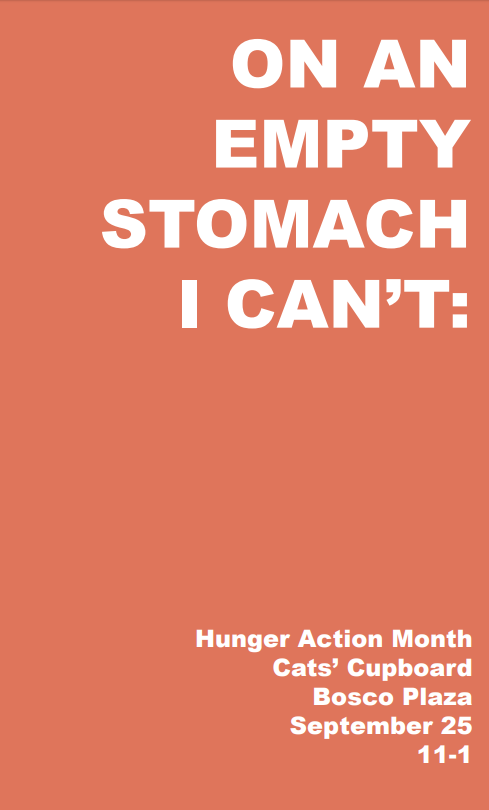 September is Hunger Action Month, a month where people all over the United States stand together with Feeding America and the nationwide network of food banks to fight hunger. It's a month to spread the word and take action on the hunger crisis and dedicate ourselves to a solution.
Cats' Cupboard will be on Bosco Student Plaza from 11 a.m. to 1 p.m. Tuesday, Sept. 25, with the Empty Plate campaign. Cats' Cupboard, in recognition of Hunger Action Month, asks K-Staters to consider how it must feel to live and learn on an empty stomach, which puts a promising future at risk.
Visitors to the Cats' Cupboard table will be able to fill out a plate answering the question "On an empty stomach I can't_____________" or "I can________ to help end hunger." Cats' Cupboard will take photos to create a social media awareness campaign as well as use the plates to decorate for Open Cupboard week in October.
Participants will receive a Cats' Cupboard magnetic bag clip for their participation. Staff and volunteers will be on hand to answer questions and share the Cats' Cupboard resource with the campus community.
Save the date for the fall 2018 Open Cupboard from Oct. 15-19 during our hours of operation. Follow Cats' Cupboard on Facebook, Twitter, and Instagram at @catscupboardksu for more information in the future.