August 20, 2012
Students to design innovative recycling solutions for K-State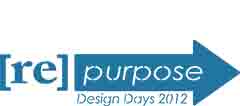 More than 300 students and faculty from Kansas State University's College of Architecture, Planning and Design will spend their first few days of the new school year working on a design collaboration to improve the K-State campus.
All landscape architecture, regional and community planning, and interior architecture and product design students will participate in Design Days 2012, Aug. 20-22.
Design Days, now in its fourth year, was created by the department of landscape architecture and regional and community planning to bring together planning and design students to use their skills and creativity to collaboratively address current planning and design issues impacting our community and campus. Previous events have inspired new thinking about the future growth of Manhattan, bicycling and edible landscapes.
This year, students will focus on the dilemma of designing an affordable and aesthetically pleasing recycling system for the K-State Manhattan campus. Teams of five students from all three disciplines will come up with their own innovative solutions for this challenge.
In a two-day design charette, the students will be charged with designing a new system that will meet the requirements of multiple users, including Division of Facilities staff, the K-State Recycling Committee, the general K-State population and those visiting campus. With such a wide audience, this recycling system redesign has the opportunity to change the behavior of thousands of people and their perceptions of recycling.
The students' efforts will be guided by numerous faculty and a Design Days special guest critic, architecture alumnus Richard Heriford, the current president of Landscape Forms in Kalamazoo, Mich. Landscape Forms is an industry leader in integrated collections of high-design site furniture and advanced LED lighting. Vice Provost for Undergraduate Studies Steven Dandaneau will join Heriford in judging the entries. K-State Division of Facilities is providing support for the event as well as assistance with the judging panel.
The teams will present their design ideas in a public exhibit to be from 5-7 p.m. Wednesday, Aug. 22, on Bosco Student Plaza outside the K-State Student Union. Prizes will be awarded to teams selected by a judging panel at approximately 6 p.m. The exhibit is free and the public is encouraged to attend.