August 20, 2012
Deines tabbed to serve as interim head of accounting
Submitted by Communications and Marketing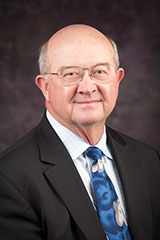 Dan Deines, the Ralph Crouch, KPMG professor in the department of accounting, has added a new title to his duties: interim head of the department.
Ali Malekzadeh, Edgerley family dean of the College of Business Administration, made the appointment, effective Aug. 5, on the recommendation of the search committee for the position.
"Dr. Deines is an outstanding scholar, teacher and mentor to accounting students," Malekzadeh said. "He has superb external relationships with accounting alumni and is respected throughout the accounting profession. I am confident he will be an excellent interim department head."
Deines, a certified public accountant since 1983, joined the College of Business Administration in 1982. He earned the rank of full professor in 2004. He holds a doctorate from the University of Nebraska, a master's from Emporia State University and a bachelor's from Fort Hays State University.
A national search for a permanent head of the department of accounting will be launched in the fall.