August 20, 2012
Family storytelling tradition inspires crop scientist to write for children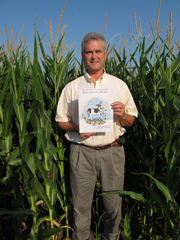 Jim Shroyer is best known around Kansas as "the wheat guy," but farmers have also known for years that he can tell a good story.
The longtime professor of agronomy and extension specialist at Kansas State University has been teaching Kansans young and old about agriculture through conferences, field days, educational websites and the crop physiology class that he teaches to college students.
Now, he's branched out and is teaching in a different way by writing "The Adventures of Holly Holstein: Holly Greets the World" for young children.
Shroyer comes by his storytelling ability naturally. That's because when he was growing up on a farm in Eufaula, Okla., his father used to tell Shroyer and his siblings tales of all sorts of places and characters.
"My dad told bedtime stories. Many were about wildlife and nature-type stuff and his growing up on an Iowa farm," said Shroyer who in turn, told stories to his own sons as they grew up.
"I didn't make up these stories initially to turn into books. I made them up to make the children go to sleep," said Shroyer.
"Holly" is the tale of a Holstein calf born during a fierce snowstorm in the hills of eastern Oklahoma. The black and white heifer is befriended by a little girl named Mika. The story, illustrated by Kansas artist Rita A. Kraushaar, was inspired by a real-life event when Shroyer's family, including his granddaughter, Mikaela, celebrated his mother's 90th birthday at the family farm a few years ago.
The idea for writing this book and others has taken shape over the 32 years he's spent working as a crops specialist with K-State Research and Extension. In that role, Shroyer has logged countless hours cruising Kansas highways looking at wheat, talking about wheat, taking pictures of wheat, thinking about wheat and — sometimes — other things.
"I've been driving around Kansas — often late at night — drinking Dr Pepper, and maybe 15 years ago got the idea to start writing children's books," he said. "I had the history for this. I made up Holly Holstein to tell my own kids. They didn't really grow up on a farm but their visits to the family farm increased their curiosity and they wanted to hear stories about it."
Shroyer and his wife, Gail, raised their sons in Manhattan. In sharing the stories he told his children and later Mikaela, he's passed along stories and wisdom gleaned from growing up on the farm.
The book is not his first foray into educating children. For years, Shroyer maintained the educational extension websites Soybean Scene, Wheat Watch and Adopt-a-Wheat Field, designed to show children and adults how wheat and soybeans are grown.
Prior to writing "Holly Greets the World," Shroyer wrote "Holly Runs Away" and "Holly Goes to the Fair." Neither has been published, but Shroyer believes it's just a matter of time.
"Last year I was looking at 'Holly Runs Away' with an editor and an illustrator and decided we needed one that introduces Holly first. So 'Holly Greets the World' was born. It's somewhat of a true story from about four years ago when we were at the family farm celebrating my mom's 90th birthday in the farm shed. My brother, Tom, went out back to check the cows and came back in with a baby calf."
Shroyer's mother, Helen, still lives on the family farm and his brother Tom is a veterinarian in the same community. Both are reflected in characters in the book, as is Mikaela.
"Most children today have no connection to a farm — including farm animals or where their food is grown," Shroyer said. "About the only thing children these days know about farming is the pull-string toy that makes the sound of the different animals."
"This book is my way — in very simple terms and pictures — of introducing children to life on a farm," he said. "In the book, Freddy Cat and Jake the Dog are based on a cat and dog we had growing up."
Shroyer credits his wife for her patience and encouragement as well as her ideas and editing skills. Others who contributed their children's literary expertise to the book were K-State assistant professor Lotta Larson and professor emeritus Marjorie Hancock, both in the College of Education.
In addition to the two other "Holly" books he hopes to have published, Shroyer has written several others, including "Cows in the House" and "Why Pigs Have Curly Tails."
"I'm not quitting my day job, but to keep the process going, I need to sell at least 1,500 copies of 'Holly Holstein' before I can publish the next book. If I don't reach that goal, in the next book Holly may find herself on a truck to a packing plant," the extension specialist said with a smile.
The book is available at Amazon.com.