August 20, 2012
Connect — your personal K-State dashboard — is now available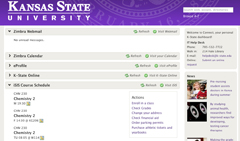 Connect is K-State's new interactive dashboard of commonly used K-State services. It allows K-Staters to quickly view highlighted details of the services available to them, which could include their webmail, calendar, eProfile, K-State Online and more.
You can access Connect by clicking the Sign In link found at the top of most K-State Web pages and then signing in with your eID and password. You can also go to http://connect.ksu.edu from your computer or mobile device.
"Our goal is to provide a useful page that puts K-State's highly used IT services in one location. Each person's Connect page is personalized; what a person sees is based upon their role at the university and most importantly what's displayed is their own information," said Ken Stafford, chief information officer and vice provost for information technology services.
More than 14 Web services are used to display the information in Connect. Current sections include but may not be available to everyone:
Zimbra Webmail
Zimbra Calendar
eProfile
K-State Online
iSIS Course Schedule
HRIS
News and Events
Advisories
Connect is a collaborative effort across campus and includes several academic, functional and technology units. An advisory council of students, faculty and staff has been created to help guide and prioritize Connect development efforts.
"Connect will continue to become more personalized as well as providing information for different groups such as admitted students," Stafford said.
Many K-Staters have been testing Connect and providing valuable feedback to improve its services. To give your feedback and to report any technical concerns please contact the IT Help Desk.
For more information, visit About Connect.