September 5, 2018
Boehringer Ingelheim recognizes Hans Coetzee for ruminant welfare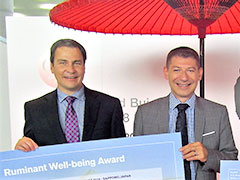 Good things come in threes for Kansas State University's Hans Coetzee, head of anatomy and physiology in the College of Veterinary Medicine. For the third time in two years, Coetzee has been awarded for his work in livestock animal welfare and pain alleviation.
Boehringer Ingelheim, a research-driven pharmaceutical company, presented Coetzee with one of two Ruminant Well-being Awards at the World Buiatrics Congress in Sapporo, Japan, on Aug. 30. His award was for achievement. The other recipient, Joshua Aleri, a faculty member at Murdoch University in Australia, was awarded for research.
The goal of these awards is to raise public awareness of the role veterinarians or experienced researchers in veterinary science or related fields play in overseeing and improving the lives of farm animals.
"By supporting the Ruminant Well-being Awards, Boehringer Ingelheim confirms its long-term commitment to the cattle industry. We are proud to encourage and reward innovation in this field — these awards recognize exceptional contribution to the scientific knowledge on ruminant well-being," said Laurent Goby, global marketing senior manager cattle, Boehringer Ingelheim animal health business unit.
In 2017, Coetzee was of six recipients of the World Veterinary Association's Global Animal Welfare Awards, which were presented in South Korea. The same year, he was presented the 2017 Animal Welfare Award by the American Veterinary Medical Association at its national convention.
In addition to being department head, Coetzee serves as interim director for the Nanotechnology Innovation Center of Kansas State and Institute of Computational Comparative Medicine, both housed in the College of Veterinary Medicine.
Coetzee is internationally known for his work in developing objective assessments of pain experienced by livestock animals during routine management procedures. He has secured more than $9 million in research funding from federal, nonprofit and industry sources, and his expertise is sought by academic researchers and pharmaceutical companies worldwide. He holds one U.S. patent for alleviating pain and improving performance during dehorning and castration, with an additional patent is pending. Coetzee also is co-founder of the biannual International Symposium on Beef Cattle Welfare.
The author or co-author of 140 peer-reviewed scientific manuscripts, Coetzee also has edited two books and is author or co-author of ten book chapters. He has served on a variety of animal welfare committees and boards, and has been the recipient of many industry awards, including the 2014 American Association of Bovine Practitioners' Award of Excellence and the 2014 Zoetis Award for Veterinary Research Excellence.
Coetzee earned his Bachelor of Veterinary Science in veterinary medicine from the University of Pretoria in South Africa and his doctorate in veterinary microbiology from Iowa State University. He also holds diplomate status from the American College of Veterinary Clinical Pharmacology, the American College of Animal Welfare and the European College of Animal Welfare Science, Ethics and Law.