February 20, 2018
Research Showcase offers exhibitors KC-area company visits and $1,000 Excellence in Innovation and Economic Engagement Award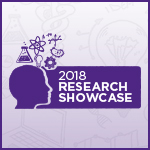 New opportunities will be offered to faculty exhibitors at the 2018 K-State Research Showcase.
The Research Showcase planning group is working with current and prospective industry partners to offer onsite visits to companies on the morning of May 16. Companies slated for visits include candidates in engineering/infrastructure; animal, plant, crop, and human health; computer science; and food technology. Five to eight options will be available to offer faculty members additional opportunities to explore industry-funded opportunities in the Kansas City area. More information will be posted on the Research Showcase webpage and shared in Research Weekly as it becomes available.
A second addition is an Excellence in Innovation and Economic Engagement Award. K-State faculty may apply for or nominate an individual or a team to receive a $1,000 award for exemplary economic engagement in the categories of talent, innovation, or place or at the intersections of these categories.
Talent focuses on education and workforce development.
Innovation focuses on innovation- and technology-based economic development.
Place focuses on social, cultural, or community development.
Applications or nominations require a brief narrative and should be submitted by email to Rebecca Robinson at spexarth@k-state.edu by April 1. Submissions must include an overview of economic engagement work, including how it advances talent, innovation, or place of their intersections as well as metrics of success. Find more information about the award submission.
Peter Dorhout, vice president for research, said he is eager to recognize individual faculty for their commitment to economic engagement.
"K-State was designated an Innovation and Economic Prosperity University in summer 2017, and we are continuing to build on a legacy of engagement through events like the Research Showcase. I am pleased to offer an economic engagement award to an individual or a team who demonstrates how K-State research enhances the Kansas economy," Dorhout said.
Finalists for the award will be asked to present their work as a keynote at the K-State Research Showcase at K-State Olathe on May 16.
Find more information about the Research Showcase and register.