January 8, 2018
Maggie Behnke awarded conference scholarship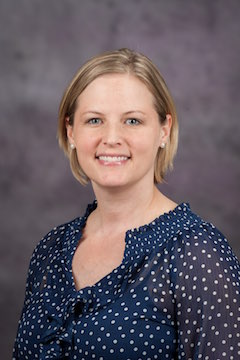 Maggie Behnke, University Research Compliance Office program manager, was awarded a scholarship to attend the 2018 American Veterinary Medical Association, or AVMA, Veterinary Leadership Conference Jan. 4-7 in downtown Chicago. The scholarships, which are jointly funded by the AVMA and Zoetis, recognize recent veterinary graduates, emerging leaders, and veterinarians from demographic, geographic or socioeconomic groups or practice types that are underrepresented in U.S. veterinary leadership.
Behnke was among 10 veterinarians selected for this prestigious award from a vast pool of applicants from across the country. She is a board-certified laboratory animal veterinarian, and her responsibilities with the University Research Compliance Office include administration and oversight of various Institutional Animal Care and Use Committee and Institutional Biosafety Committee activities.
Cheryl Doerr, associate vice president for research compliance, said Behnke is deserving of the scholarship.
"I am so proud of Maggie for her accomplishment. Her dedication to laboratory animal medicine and research compliance make her an invaluable asset to K-State," Doerr said.