Executive Education by Kansas State University accepting applications for next classes
Monday, Jan. 8, 2018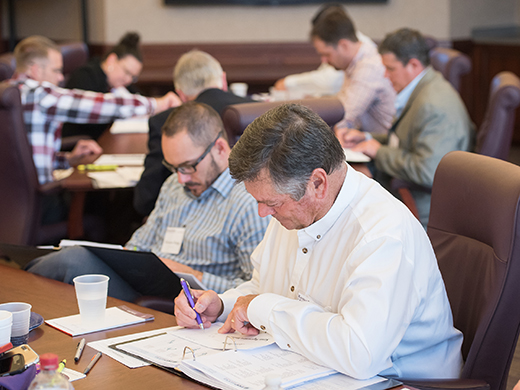 The Executive Coach, a class offered through Kansas State University's Executive Education program, is now accepting registration for its spring and summer classes. Executive Education is a collaboration of K-State Global Campus and the Aspen Business Group. | Download this photo.


MANHATTAN — After successfully launching the program in fall 2017, Executive Education by Kansas State University is looking for its next group of business owners, executives and leaders to apply for its second and third classes of The Executive Coach, set to begin March 21 and June 22, respectively.

Each workshop in the program will use experts, case studies, peer-group discussions, self-reflection and coaching to provide an optimal learning experience. Designed as both a personal and strategic retreat for executives, the workshops offer the chance to escape the constraints of participants' daily routines and discover a fresh, big-picture perspective. Each Executive Education program will explore, learn and utilize proven leadership competencies.

The first class of The Executive Coach met Oct. 19, 2017, and featured business leaders from a wide range of industries, including construction, technology, landscaping, nonprofit, medical, venture capital, agriculture, manufacturing, real estate and technology integrators.

"Our participants were all pleased to see K-State offer a program designed to help organizations be more successful," said Russell Disberger, owner of Aspen Business Group and facilitator of the program. "We had a diverse group in our first class, and we're looking forward to welcoming in a new class this spring."

The Executive Coach was developed to target high-level executives desiring to take themselves and their organizations to the next level through proven and innovative leadership methods.

Executive Education by Kansas State University is a special collaboration between K-State Global Campus and Aspen Business Group. These programs are designed for high-level executives, middle managers and emerging business leaders. Each program consists of 12 one-day sessions, meeting quarterly over a three-year period in Manhattan.

Participants are selected by the Executive Education staff to ensure a good fit with the program and a diverse group of executives from a variety of disciplines and industries. Anyone who is an owner or in an executive leadership role can apply.

Each workshop features a subject matter expert from private industry or the Kansas State University faculty. The program features roundtable discussions with opportunities to network within the group, as well as a dedicated coach who will provide one-on-one accountability sessions between workshops. This allows the skills learned to be integrated directly into the participants' business operations.

"The program is designed to use lectures, business simulations and small-group discussions to foster collaboration with peers from various functions, industries and backgrounds," Disberger said. "As a result, participants will develop relationships that continue long after the program ends."

Space in the program is limited and applicants are encouraged to submit application materials early.

More information and the online program application are available at conferences.k-state.edu/exec/.