November 28, 2017
Indian-American composer Reena Esmail lectures at Hale Library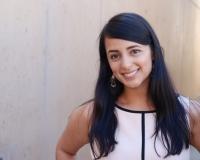 Indian-American composer Reena Esmail is in residence at K-State this week for a series of master classes, lectures and a free concert of her music.
As part of her visit, Esmail will present "Intersections Between Hindustani and Western Art Music in the Work of Reena Esmail" at 3:30 p.m. Tuesday, Nov. 28, in the Hemisphere Room of Hale Library. While the history of collaboration between Hindustani — North Indian — classical musicians with Western musicians in the areas of jazz and popular music has been long and multidimensional, the history of incorporation of Hindustani music — either through its techniques or its performers — into Western art music has been a path much less frequently traversed. In this lecture, Esmail will explore a few of the reasons for this disparity and provide some of the solutions she has found through her own compositional explorations of points of connection between Hindustani and Western art music. This lecture is sponsored by the Dow Center for Multicultural and Community Studies at K-State Libraries.
Esmail will present a free concert of her music at 7:30 p.m. Wednesday, Nov. 29, at All Faiths Chapel.
She earned degrees from the Juilliard School and Yale University. She was a recipient of a Fulbright-Nehru grant for 2011-12 and lived in New Delhi, where she was affiliated with the faculty of music and fine arts at the University of Delhi and studied Hindustani vocal music with Gaurav Mazumdar. Her highly heralded compositions include numerous solo, chamber, choral and orchestral works as well as film scores. Her oratorio for choir, Baroque orchestra, sitar and tabla, "This Love Between Us: Prayers for Unity," using texts in eight languages from seven different religions, received multiple performances in the U.S. and in India earlier this year. Her newest composition, "Khirkiyaan (Windows): Three Transformations for Brass Quintet," will receive its world premiere by the K-State Faculty Brass Quintet on Wednesday, Nov. 29.
In addition to composing, lecturing and teaching composition, Esmail is composer-in-residence with Street Symphony, an organization that places social justice at the heart of music-making by creating opportunities for musical engagement and dialogue between world-class musicians and people disenfranchised by homelessness, incarceration and poverty in Los Angeles County. She is co-director of Shastra, a national organization that supports and cultivates musicians who work between Indian and Western traditions. In February, Esmail will teach workshops in Mumbai to give Hindustani singers the skills to collaborate with Western classical musicians.