November 28, 2017
Family studies and human services receives four awards at national conference
Submitted by College of Human Ecology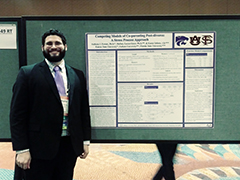 The College of Human Ecology's School of Family Studies and Human Services took home four best paper awards at the National Council on Family Relations' annual conference earlier this month in Orlando, Florida.
The following are award recipients:
• Erin Yelland, assistant professor and extension specialist, was awarded the Outstanding Student and New Professional Paper Award for the Families and Health Section of the council for her paper, "Sex, Dementia, and Long-term Care: Public Opinion and Important of Policy."
• Hillary Dalton, doctoral student in applied family science, was awarded the Student and New Professional Outstanding Paper Award for the Religion, Spirituality, and Family Section of the council for her paper, "Sacrifice and Self-care as Relational Processes: The Connections and Tensions."
• Jessica Cless, couple and family therapy graduate, and Briana Nelson-Goff, professor, were awarded the Wesley Burr Graduate Student Scholarship Award for their paper, "Trauma-informed Pedagogy: The Trauma-informed Classroom Care (TICC) Model."
• Anthony Ferraro, assistant professor, was awarded the Student Proposal Award for the Education and Enrichment Section of the council for his paper, "Co-Parenting After Divorce: Perceived Competence as a Coping Mechanism."