May 10, 2017
Memories matter: Share your memories and ideas for World War I Memorial Stadium
Submitted by La Barbara James Wigfall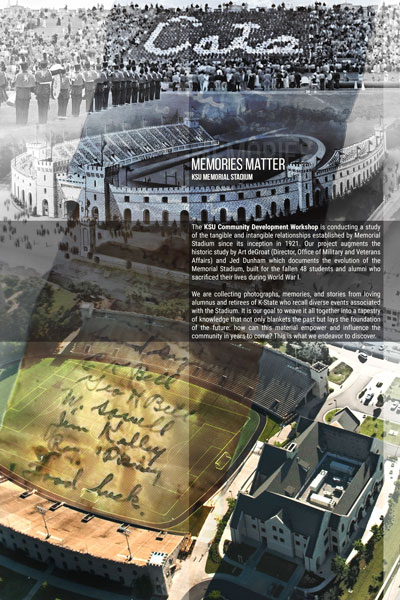 The K-State Community Development Workshop, a class within the landscape architecture and regional & community planning department, is working on a project to preserve the history of World War I Memorial Stadium, while also stimulating ideas to help make it a vibrant and active facility on campus for generations to come.
Faculty, staff, students and the community are invited to attend an open house from 2:30-4:30 p.m. Wednesday, May 10, in the Tadtman Boardroom of the K-State Alumni Center to hear from students who have been working on the project throughout the semester.
Participants also will be able to share their memories about World War I Memorial Stadium and provide ideas and suggestions for future uses of the stadium.
Please feel free to come and go as you wish.