May 3, 2017
Accounting department scholarship gala awards $217,000 in scholarships, inducts Kansas Insurance Commissioner Ken Selzer to K-State Accounting Hall of Fame
Submitted by Brent Fritzemeier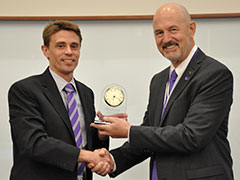 The K-State accounting department recently awarded $217,000 worth of scholarships for the 2017-18 school year at its annual scholarship gala.
In all, 129 students received at least one scholarship at the event. For undergraduates, 85 students were awarded scholarships worth $113,000, while there were 44 students in the Master of Accountancy program that received scholarships totaling $104,000.
"The generosity and support of our donors and supporters is truly amazing," said Brett Wilkinson, head of the accounting department. "We have a vibrant and growing program, and the future is bright for K-State accounting. We are indeed fortunate to have such incredible alumni and friends partnering with us to ensure the success of our program."
In addition to the scholarships, the department also used the event to induct current Kansas Insurance Commissioner Ken Selzer into the Kansas State University Department of Accounting Hall of Fame. The recognition annually recognizes an outstanding accounting alumni who is making an impact in business, government or academia.
Selzer was elected as the Kansas insurance commissioner in 2014 and began serving in that position on Jan. 12, 2015. He previously worked in the reinsurance industry for more than 30 years.
In addition to his credentials as a certified public accountant, he has earned a number of professional designations, including chartered property and casualty underwriter, associate in reinsurance, and fellow of the Life Management Institute.
Selzer is active in many professional, community and charitable organizations. He has served as president of the Rotary Club of Leawood, chairman of the Kansas Society of CPAs Educational Foundation, and president of the Cystic Fibrosis Foundation Heart of America Chapter. He also is an alumnus of Leadership Kansas.
He currently serves on the Advisory Council of the K-State College of Business Administration and is a member of the KSU Foundation board of trustees.