May 3, 2017
Visit Wahoo Fire and Ice Grill May 4 to support the vaquita porpoise and learn about sustainable seafood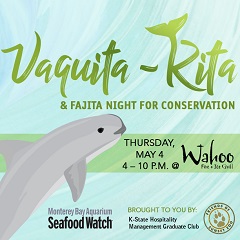 K-State's Hospitality Management Graduate Club and Friends of the Sunset Zoo are raising funds to support vaquita conservation from 4-10 p.m. Thursday, May 4, at Wahoo Fire and Ice Grill in Aggieville. The Vaquita-Rita and Fajita Night is a first for Manhattan conservation efforts.
The vaquita is a critically endangered dolphin relative facing extinction by 2018. Vaquitas are only found in the northern Baja of California and there are only 30 left in the wild.
Throughout the event, attendees will have the opportunity to support vaquita conservation through direct donation and specific menu item purchase. The evening will include activities for all ages, including details regarding the plight of the vaquita and educational resources about sustainable seafood initiatives.
The rapid decline of the vaquita porpoise results from unsustainable seafood harvesting methods. Due to the critical nature of their endangerment and the cause, international partners and many zoos are launching an intensive rescue effort hoping to create a sanctuary for the remaining vaquitas. Purchasing sustainable seafood can have major, positive impacts on vaquita survival.
The evening at Wahoo Fire and Ice Grill will include sustainable seafood options for dinner.