February 22, 2017
You spoke, we listened: Interview Designer training
Submitted by Division of Human Capital Services- Talent Acquisition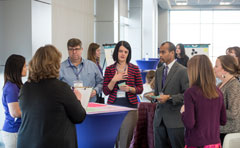 Human Capital Services' Talent Acquisition makes every effort to strategically practice the continuous improvement process in all aspects of attracting top talent to the university. The department conducted an innovation session last month with internal and external stakeholders to seek input on the initiatives that impact the recruitment process. The stakeholders provided feedback on several key areas impacting the division's K-State 2025 goals, such as the development of branded position announcements, internal resources and training.
One initiative the team is focused on is improving the interview process, which impacts the candidate experience, quality of the hire and retention of qualified candidates. According to Glassdoor, an employee review site, 91 percent of employees rated their interview experience as positive. On average, the reviews also rated the interview difficulty at 2.3 out of 5.0 scale. Talent Acquisition is aware of the data and seeks solutions to improve the interview process.
Based on feedback from internal and external stakeholders and utilizing the Korn Ferry Interview Architect methodology, the team has developed Interview Designer training to build an aptitude among interviewers at the university and equip leaders on best practices during the interview process. According to Roberta Maldonado Franzen, director of Talent Acquisition, the course will provide an additional resource to hiring managers and teach them how to select relevant competency-based interview questions.
"As we continue to aim to attract a highly talented, diverse workforce, we need to ensure our interviewers are proficient on how to effectively drill down on an experience in order to assess an applicant," she said.
You spoke. We listened. Talent Acquisitions' vision is to establish best practices that effectively target and acquire diverse top talent. The team developed resources to further enhance the interview experience and equip interviewers with resources to effectively assess talent. Interview Designer training will be offered Feb. 28 in Manhattan and in March at the Polytechnic Campus. Employees can sign up via HRIS self-enrollment.