February 22, 2017
K-State student organization to host Ebony Arts Festival Feb. 23-25
Submitted by Shannon Blake Skelton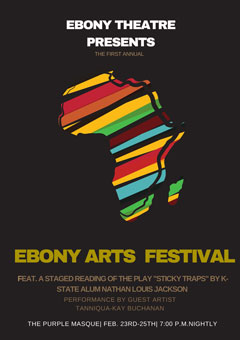 K-State's Ebony Theatre presents the inaugural Ebony Arts Festival.
Ebony Theatre, an official student organization, celebrates and promotes African-American writers, artists and performers.
The festival begins at 7 p.m. Thursday, Feb. 23; Friday, Feb. 24; and Saturday, Feb. 25, in West Stadium's Purple Masque Theatre, near the K-State Alumni Center. Festival admission is free.
The festival will feature performances by students and members of the community, along with special guest artist Tanniqua-Kay Buchanan and a reading of Nathan Louis Jackson's play "Sticky Traps." Jackson is a K-State alumnus and current writer for Luke Cage Television.
Music, poetry and dance presentations will be from 7-7:30 p.m. At 7:30 p.m., the reading of "Sticky Traps" will begin. The cast includes Gary Hackett, Daijah Porchia, Jerry Jay Cranford and Jen Vellenga. Jackson's play concerns religion, race and sexual orientation and their intersections in a small Kansas town.
For more information, please contact Porchia at daijah@k-state.edu or Hackett at ghackettiii@k-state.edu.