February 22, 2017
Thurston invited to participate in NSF conference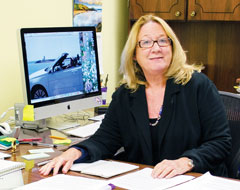 Linda P. Thurston, associate dean for the College of Education and Lydia E. Skeen endowed chair, has been selected to participate in a National Science Foundation, or NSF, conference next month.
CoExIST, a Convening of Experts on Inter-organizational Collaboration in STEM, is an NSF INCLUDES conference that will be March 8-10 in Dallas, Texas. The goal is to share knowledge, ideas and innovative strategies from an intersectionality perspective. The NSF INCLUDES initiative is investing in building alliances of organizations working to broaden participation in science and engineering to affect a greater impact on increasing the diversity of the STEM workforce.
Thurston was invited to participate in the convening because of her role in NSF INCLUDES projects, which encompasses her work with the INCLUDES national technical assistance team. She will share her vast experience with social innovation models such as collective impact, networked improvement communities and other inter-organizational collaborations that leverage organizations' capacities and expertise to magnify outcomes.
The convening is sponsored by the National Girls Collaborative and the National Alliance for Partnerships in Equity.