April 9, 2012
Letter to campus from John Currie
Submitted by Communications and Marketing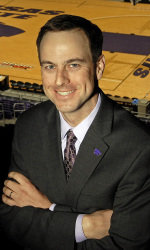 Good morning, K-State Nation!
Today has been another busy one for the Wildcats. President Schulz and Provost Mason are hosting a two-day campus visit by the state of Kansas Board of Regents, and we just finished giving them a special construction tour of our $18 million Basketball Training Facility. It was my first time inside the facility since Feb. 24 and I was amazed at the progress in that short time period. The limestone going on the exterior looks awesome!
There is lots of K-State sports action this weekend, so let's get right to the updates.
West Stadium Center project groundbreaking set for April 28
Today at lunch we hosted our media for a press conference announcing the next step in the Bill Snyder Family Stadium Master Plan, the West Stadium Center (click here for the official press release). When we proposed Phase II, the West Stadium Center, at the bowl pep rally at Rangers Ballpark in January, the reaction and endorsement from our fans was tremendous, and today I am very pleased to announce that enthusiasm has translated into dramatic fundraising momentum which will enable us to formally break ground on April 28, with the intent to complete the stadium center in time for the 2013 football season. Interest in the project has been terrific, and with the recent commitment of a $5 million challenge gift from an anonymous donor and the full subscription of the West Stadium Center's 40 suites, we are now launching the club and loge seating phase of the project.
At more than 250,000 square feet, the West Stadium Center will have something for every K-State fan and every student-athlete. Our goal of the best fan experience in the Big 12 will be enhanced with twice as many restroom fixtures and four times the concession points of sale as the existing west stadium, along with a hall of honor recognizing the heritage of our university and athletics program, with equally vital improvements in safety, security and ADA access.
A student-athlete dining center will directly benefit all K-State athletics teams while the new structure will mark the northwest gateway of our beautiful campus and serve as rallying point for the entire university as we pursue the goal of elevating K-State into the ranks of the top 50 public research universities by 2025.
The West Stadium Center is also symbolic of our commitment to fiscal responsibility as no state or university tuition dollars will be used in its construction while it also generates significant future income to be invested in our program.
And, not insignificantly, the West Stadium Center and Bill Snyder Family Stadium Master Plan will help secure our competitive future, a future we are absolutely committed to championship performances at the highest level of intercollegiate athletics.
Click here learn more and find out how you can help make the West Stadium Center a reality.
Coach Weber hits the ground running
As we finish week one of the Bruce Weber era I can tell you that each moment since his arrival in Manhattan has validated his selection as our new head men's basketball coach. His first week has included time in individual workouts and meetings with our players, multiple stops across campus, numerous visits with national and local media and he's already hit the recruiting trail, first stopping in Kansas City and Wichita. Our support staff is doing a great job of helping Coach Weber and his first staff hire, Chris Lowery (click here to read more about Coach Lowery), quickly acclimate to Manhattan and the K-State athletic family. Coach Weber is a tremendous fit for K-State, a proven championship coach, a person of tremendous integrity and a veteran of two previous successful transitions. Andy Katz of ESPN featured Coach Weber yesterday and also mentioned the Cats here in his early look at the 2012-13 season.
While these past several weeks were very hectic and busy for me personally, I appreciate the hard work of our athletics staff in continuing the daily operations of our department. Business still has to proceed as usual in hectic times and so many of our staff members have put in extra time and effort over these last several weeks. As I have said many times, we are very fortunate to have such a dedicated and hard-working staff here at K-State!
And now back to our regularly scheduled programming.
Equestrian finishes third at Big 12 Championships
Manhattan and Timber Creek Stables played host to the first-ever Big 12 Equestrian Championships last weekend. We have had nothing but glowing reports from fans, fellow Big 12 institutions and league personnel about the first-class event that our staff and equestrian team worked so hard at providing. Congrats to Coach Lisabeth and our squad on their third-place finish and also to all our staff members and student-athletes for putting on such a terrific event. When opportunities like these are presented to us, our goal is to provide our fans and student-athletes with a world-class experience, and that is exactly what they did!
Football opens spring drills
It's hard to believe that football season is approaching – it seems like just yesterday we were in Arlington for the AT&T Cotton Bowl – but Coach Snyder and our team opened spring practice Wednesday as they prepare for not only the April 28 Purple/White game but also the 2012 season. If you haven't already done so, go to www.k-statesports.com/16goals to check out the football promotional videos that our staff has created based on Coach Snyder's 16 Goals for Success. And be sure to join us this fall in Bill Snyder Family Stadium for seven home games as season tickets are available now. Order yours before the April 27 priority deadline by visiting kstatesports.com or calling 1-800-221-CATS. Order today – several sections have already sold out for the 2012 season!
Coach Patterson honored
Congrats to Coach Patterson as she was recently named the 2012 Fellowship of Christian Athletes Kay Yow Heart of a Coach Award winner. She was presented the award during a breakfast ceremony at the NCAA Women's Final Four in Denver earlier this week. Named for the late North Carolina State coaching icon Kay Yow, the award is presented annually by the FCA to honor a basketball coach who has exemplified biblical principles over the course of his or her career.
Another busy spring weekend
Coach Hill and our baseball team began a three-game series with Sacred Heart last night with a 9-7 win, and with it being Easter weekend, the series will be completed tonight, 6:30 p.m., and Saturday, 1 p.m. If you can't make it to Tointon Stadium, be sure to catch all three games live on K-StateHD.TV. Coach Sweeney and the rowing team will compete in the Kansas Cup on Saturday in Wyandotte as the squad looks to defeat rival KU for the second straight year. The rest of our teams will be on the road this weekend as the track teams will be split between events in Arizona and Emporia, while the women's golf team will look to continue its solid play with a trip to Oxford, Miss., today, Saturday and Sunday.
That's it for today. We hope to see you at baseball this weekend, and as always, we appreciate your continued support of our student-athletes.
Go Cats!

John Currie