December 15, 2016
Make your United Way donation by Dec. 16 to be entered in prize drawing
Submitted by Communications and Marketing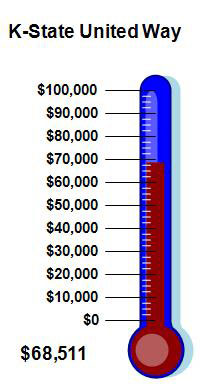 More than 330 employees have pledged $68,511 to the United Way campaign.
Make a tax-deductible donation by Friday, Dec. 16, to be entered into a drawing for a parking pass or one day off with pay. Winners will be announced in K-State Today.
Your donation helps organizations like Big Brothers Big Sisters support operating budgets and more. Without the support of the United Way, the program would not be able to facilitate the needs of children facing adversity in our community and provide opportunities and impactful relationships.
A recent mini-grant from Konza United Way helped the facility in Riley County make essential safety improvements to its building that was built in 1920.
Help local United Way organizations continue operations by making a donation through HRIS/Employee Self Service. You can designate a gift to the United Way in your community, to make sure the funds stay local.
For more information about Konza United Way and other agencies it supports, visit konzaunitedway.org.
Every gift makes a difference, and real change can't happen without you.