December 15, 2016
Theatre professor publishes book on playwright, actor Sam Shepard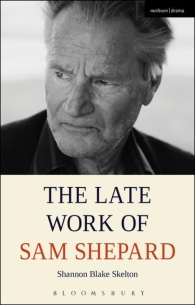 Shannon Blake Skelton, assistant professor of theatre, recently published "The Late Work of Sam Shepard," a book on the American playwright, actor and director.
Hailed by critics during the 1980s as the decade's "Great American Playwright," Shepard has since continued to produce work in a wide array of media including short prose, films, plays, performances and screenplays. Like Samuel Beckett and Tennessee Williams in their autumnal years, Shepard relentlessly presses the potentialities and possibilities of theatre. This is the first volume to consider Shepard's later work and career in detail and ranges across his work produced since the late 1980s.
Shepard's motion picture directorial debut "Far North" (1988) served as the beginning of a new cycle of work. He returned to the stage with the politically engaged "States of Shock" (1991) which resembled neither his earlier plays nor his family cycle. With both "Far North" and "States of Shock," Shepard signaled a transition into a phase in which he would experiment in form, subject and media for the next two decades.
Skelton's comprehensive study includes consideration of his work in films such as "Hamlet" (2000), "Black Hawk Down" (2001), "The Assassination of Jesse James by the Coward Robert Ford" (2007) and "Brothers" (2009); issues of authenticity in the film and screenplay "Don't Come Knocking" (2005) and the play "Kicking a Dead Horse" (2007); of memory and trauma in "Simpatico," "The Late Henry Moss and When the World was Green," and of masculine and conservative narratives in "States of Shock" and "The God of Hell."
"This is an intelligent book, one that is essential for anyone interested in Sam Shepard and the contemporary stage." — Matthew Roudané, Georgia State University.
"Offering a range of critical approaches and exhibiting scholarly sophistication, this is an intelligent, overdue contribution to the literature on Shepard." — CHOICE.