March 23, 2016
K-State geology team places third in competition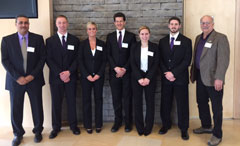 A team of graduate students from Kansas State University's geology department took third place in the mid-continent Imperial Barrel competition sponsored by the American Association of Petroleum Geologists. The association's Imperial Barrel competition is an annual global competition that challenges teams of students to analyze real-world datasets provided by industry and produce an evaluation of its hydrocarbon exploration potential. This year's competition was at Chesapeake Energy's campus in Oklahoma City, Oklahoma.
The students are given eight weeks to perform the analysis, culminating in a presentation of their interpretation to a panel of industry experts. The teams are judged on the technical quality, clarity and originality of their presentation.
The K-State team consisted of graduate students Aria Linares, Morgan Richardson, Chance Reece, Austin Krehel and Anthony Lueck, with Josh Rennaker serving as an alternate. Faculty advisors were Abdelmoneam Raef and Matthew Totten.
The competition is now in its 10th year and this is K-State's fourth year participating in the competition. This third place showing, against many larger and more established university programs, reflects the growing success of the geology program at Kansas State.