March 23, 2016
Letter from the V.P. for Student Life and Dean of Students Pat Bosco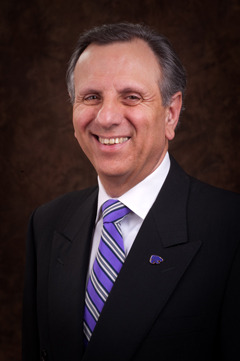 Dear faculty and staff,
K-State has a long tradition of preparing students to make important contributions to our communities and world. A key to educating and training K-State students for global opportunities, dynamic workplaces and future challenges has always been K-State's family atmosphere, which continues to support student success and career readiness.
As the new front door of K-State, the Berney Family Welcome Center will be one of the first university facilities in the country to seamlessly connect future and current student experiences with career opportunities for its graduates. New Student Services, Academic and Career Information Center, or ACIC, and Career and Employment Services, or CES, will move to East Memorial Stadium summer 2016.
The Berney Family Welcome Center will have the newest technology, expanded accommodations and an inviting atmosphere that will meet the growing needs of students and industry partners. One of the center's key strengths is combining the hard-working teams from both ACIC and CES to provide a seamless experience for K-State students as a united Career Center.
K-State's new Career Center will continue to work side-by-side with faculty members, academic advisors, student life staff and others throughout the campus community to promote career readiness. By uniting the efforts of ACIC and CES, students will have a one-stop shop where they can explore majors, prepare for job searches and connect with employers.
Since the elimination of an annual user fee in 2006-2007, career services usage has skyrocketed among K-State students. During 2014-15, ACIC and CES had more than 21,000 interactions with K-State students through individual career advising and presentations. At the same time, K-State hosted 583 unique employers on-campus during which 7,473 students attended career fairs and 4,663 interviews were conducted for internships and full-time jobs. Given the continuing demand for K-State graduates, the All-University Career Fair will expand from a two-day to a three-day event during September 2016.
The career readiness of students and strong recruiting interest from industry is part of the reason why 94 percent of last year's graduating class was employed or enrolled in graduate education within six months of graduation. With an 82 percent response rate, the post-graduation report by Career and Employment Services provides evidence that will show that the K-State family is preparing students to be valuable employees. The following is a snapshot of that report.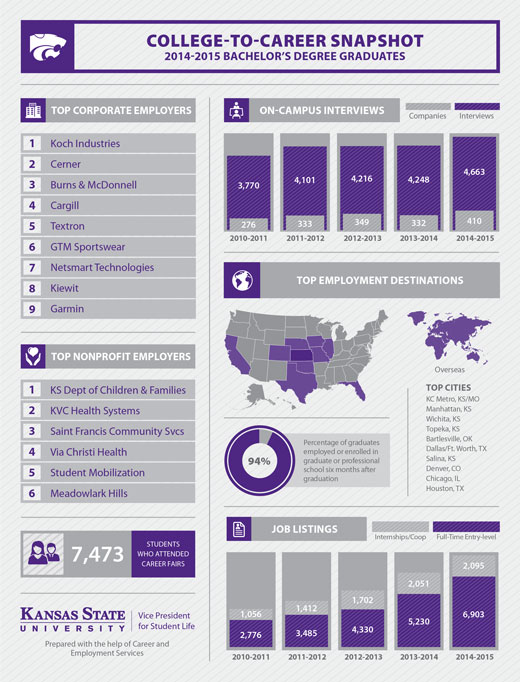 Thank you to all those across the K-State family who put students first and help guide them from college to career. We are excited about the opportunities ahead for the Berney Family Welcome Center and the new Career Center.
Pat Bosco
Vice President for Student Life and Dean of Students