September 28, 2015
Contemplative Practices for Higher Education's first meeting Oct. 2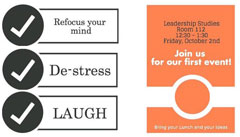 Contemplative Practices for Higher Education, or CPHE, is a new student organization at Kansas State University. Together, we aim to learn techniques to keep us centered as we work through our dissertation, graduate work or undergraduate studies.
Be a part of our community. Our first event will be from 12:30-1:30 p.m. Friday, Oct. 2, in 112 Leadership Studies Building. All our welcome.

The pressures of academia are very real. Be kind to yourself. Allow time to regroup and refocus. Even the simplest of practices can make a huge difference when writing, reading or discussing your field of research.
Share your ideas so we can better plan events and activities and after our meeting, join us for an arts-based research presentation. Follow us on Twitter, Facebook, or through OrgSync for more information.
See you on Friday, Oct. 2.