September 28, 2015
Film about local buffalo soldier to premiere on campus on Veterans Day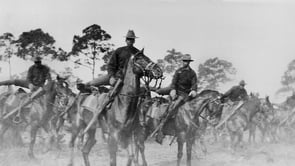 One of the last living buffalo soldiers shares his life experiences and career in the Army that included heavyweight champion Joe Louis and life-changing Count Basie concert.
"I Was a Buffalo Soldier: The Story of Nolan Self" will premiere at 11 a.m. Nov. 11 in the Hale Library's Hemisphere Room. The film was commissioned by Self's son, Curtis, and produced by videographer Rusty Earl with the help of David L. Griffin Sr., assistant dean in the K-State College of Education. The college is promoting the film as an educational tool and resource for teachers across the country.
Self, a 97-year-old former buffalo soldier in the 10th Cavalry, served five campaigns during World War II. He was stationed at Fort Leavenworth and Fort Riley and moved to Junction City after retiring from the military. Self retired from the city of Junction City after a 17-year career.
Self's mother and 10 siblings moved from Leesburg, Louisiana, to Pine Bluffs, Arkansas, after his father's early death. No one asked Self to quit school — no one had to — because he knew that's what he had to do. He spent approximately four years in the Civilian Conservation Corps until he was old enough to join the Army. It was 1940, and that meant war.
Self recounts the trip on a Missouri-Pacific train from Pine Bluffs to Fort Leavenworth with about 400 young African-American men who were to become buffalo soldiers. It broke his mother's heart to think her son was going off to war, but that's not how Self saw it.
"The Army was a salvation to me and my family. I was glad to be a solider," Self said of the job that provided financial stability for his mother and sisters. "I loved the horses, and in the Army I had two horses, in fact. When you are in the horse cavalry, you have a spare."
Self explained the Army moved the 10th Cavalry to Fort Riley to train with the 9th Cavalry. That's where he met fellow buffalo soldier and world heavyweight champion Joe Louis. Louis was stationed at Fort Riley with his family and realized there wasn't much for the other buffalo soldiers to do so he called his friend, Count Basie, who agreed to perform a concert in Topeka. Louis rented buses, giving a couple hundred girls free transportation to the concert so the soldiers had someone to dance with. That's when Self met the girl he would dance with for the next 72 years.
Self's wife, Wilma, still smiles when she thinks of the moment they met.
"Well, I thought he was about the cutest kid I'd ever seen," she said. "He was so handsome."
The couple raised eight sons and the film depicts the deep love, affection, respect and wisdom the two have gained during their seven decades together. Closing shots depict Self standing next to the Buffalo Soldier Memorial in Junction City, and his jacket said it all: Army Strong.
For more information about the buffalo soldiers, visit the Buffalo Soldier Museum.