May 13, 2015
Nepal earthquake relief bracelets
Submitted by Melissa McKendree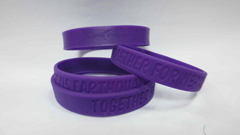 The Graduate Students of Agricultural Economics are collecting donations for the Nepal earthquake relief funds after the devastating earthquake on April 25.
Get a purple bracelet for a $3 donation. The words "Together for Nepal" and "4/25/15 Earthquake" are stamped on the bracelet.
Get one for you, your family and your friends. Adult and medium sizes are available. Bracelets will be available in 342 Waters Hall or from 10 a.m. to 2 p.m. Wednesday, May 13, and Thursday, May 14, at Table 1 in the K-State Student Union.
Please email Melissa McKendree at mgsm@k-state.edu if you have any questions or would like to help collect donations in your department or organization. Thank you for your support!